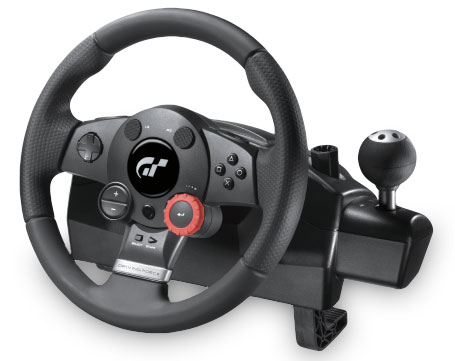 Recently I wanted to try out some racing games, and using a controller just is not as fun as using a racing wheel. So I recently purchased the Logitech Driving Force GT for the Playstation 3, and was it worth the price? Read on to find out.
First let us cover why I chose this particular racing wheel. Originally I wanted to buy a Xbox 360 wheel, but the nice one Microsoft made is no longer in production and can only be found used or on second market way over priced. The next option was the wireless wheel for Xbox, but you just held it in the air and pretended to have a dash boards, not exactly what I was looking for.
The other options was the MadCatz racing wheel, while MadCatz is ok, the reviews were less than stellar on Amazon and Best Buy. Now there are the professional high end options as well, but they can cost close to $500 and  I was not looking to spend that much.
Finally I came across the Logitech Wheels, they were rated fairly high and were reasonably priced. The Logitech Driving Force GT can be found on their website for about $150 but Walmart online carries it around $100 and you can pick it up in store, so I went that route.
Set up is rather easy, the only downside is it is not wireless, there is a power cord, a usb to connect to the PS3 and a cord from the petals to the wheel. The wheel and petals are made from strong plastic and are very sturdy. The wheel itself feels like a real steering wheel the gear shift is not standard, it just moves up and down.
The games I tried are Grand Tourismo 5, Midnight Run LA and Need For Speed Most Wanted. The wheel worked the best with Gran Tourismo, naturally it was designed for that game, and if you are a gear head this is your game.
Unfortunately I am more of a casual racer, and Midnight Run ended up being the best game for me, Need for Speed was not bad, but the wheel controls seemed better with Midnight Run. When turning you can feel the feedback on the wheel with vibrations and stiff controls when you skid out of control.
I must say it is a whole lot of fun, it makes racing games much more enjoyable. This wheel is not designed for your lap, it is meant to be mounted to a desk or table, so if your looking for one to fit in your lap, you may need to look else where. Overall the racing wheel is a blast and is like having your very own Dave and Busters in your house!