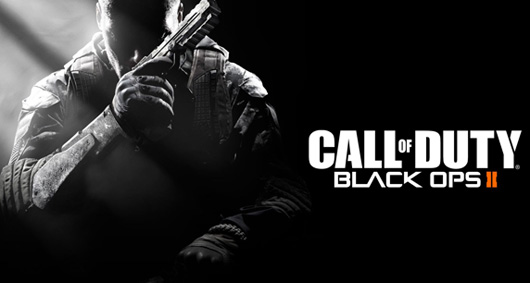 The long awaited Call of Duty: Black Ops II is finally here! As a beloved player I couldn't wait to get to the store on release day to get my copy. And like all two million other COD diehards sat up all night playing. Call of Duty: Black Ops II is the most realistic first person shooter game out.
Online multi-player mode takes into the battlefield where you have to protect yourself from opposing militia, airstrikes, poisonous gasses, or grenades.  Black Ops II provides the player with many game-play options such as domination, free for all, kill confirmed, capture the flag, or straight up team death match.
If online mode isn't for you, you can still experience the war in campaign mode. Your commander gives you orders and objectives to complete the mission at hand, taking you through the war story. Regardless of Online or Campaign mode, as you progress and complete objectives you are rewarded  with achievements, perks, part upgrades, or best of all more guns!
To throw in a twist, rather than just taking you into a war against others, Black Ops II gives you Zombie mode.  Zombie mode allows you to hold down an area making sure you protect yourself from, well….zombies! Earn money by rebuilding windows and barriers that prevent the Zombies from killing you. With progressive levels it will get harder and harder for you to survive.
Whether you are an XBOX 360, PlayStation 3, or even a Wii player, you can experience the thrill of Call of Duty: Black Ops II. Release night, XBOX players alone accumulated over 21 million hours of playtime! If that doesn't tell you just how awesome the game is, I don't know what will. See you on the battlefield!